MADRID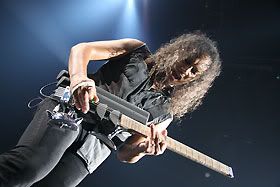 July 14, 2009
.
Palacio de Deportes, Madrid, SPA.
Seconda serata nella capitale spegnola. 'Death Magnetic' è tornato stabilmente e abbondantemente nella scaletta degli show della band (6 estratti: dalla tellurica 'My Apocalypse' al singolo 'The Day That Never Comes'), affiancando così i classici che hanno reso grande la formazione capitanata da James Hetfield. E che classici: spiccano l'inno di battaglia 'The Four Horsemen', la terremotante 'Damage Inc' (poco frequenti, entrambe, recentemente), la devastante e primordiale 'Hit The Lights' e l'eterna 'Master Of Puppets'. La folla reagisce con un'energia spettacolare e un pogo liberatorio. I 'tallica riescono a trovare spazio anche al tanto vituperato 'Reload ('The memory Remains'), a un inedito di 'S&M' ('No Leaf Clover') e ad una cover motorheadiana ('Too Late Too Late'). Curiosa l'assenza di pezzi storicamente fissi come 'One': a dirla tutta, gli spari e il sottofondo bellico del pezzo datato 1988 erano anche partiti, ma poi James ha stupito tutti attaccando la magnifica 'Fade To Black' invece che, appunto, 'One'. I fans più distratti -i poser- si gustano in allegria le hit del Black Album. 'Seek & Destroy' mette fine al massacro, come da tradizione.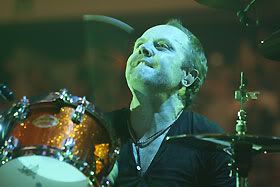 SETLIST:
That Was Just Your Life- The End of the Line- The Four Horsemen- The Memory Remains- Fade to Black- Broken, Beat & Scarred- My Apocalypse- Sad But True- No Leaf Clover- The Judas Kiss- Kirk Solo #1- The Day That Never Comes- Master Of Puppets- Damage, Inc.- Kirk Solo #2- Nothing Else Matters- Enter Sandman- Too Late Too Late- Hit The Lights- Seek and Destroy.