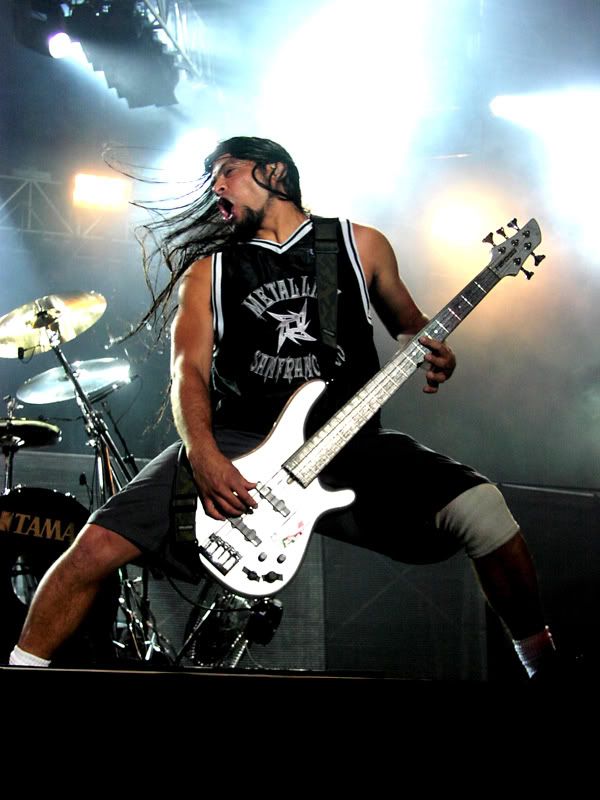 Roberto Agustín Miguel Santiago Samuel Trujillo Veracruz, più semplicemente conosciuto come Robert Trujillo (Venice, California, 23 ottobre 1964), è un bassista statunitense. Dal 2003 è il bassista dei Metallica, in cui è entrato dopo l'abbandono di Jason Newsted. In precedenza ha suonato il basso per i gruppi Suicidal Tendencies, Infectious Grooves, Cyco Miko e Black Label Society, e per Ozzy Osbourne. Cresciuto a Venice, ha iniziato a suonare per alcuni gruppi della zona prima di unirsi ai Suicidal Tendencies nel 1989, al posto di Bob Heathcote. Nella band si distinse per l'incorporazione di giri di basso tipicamente funk, soprattutto negli album Lights...Camera...Revolution! ed Art Of Rebellion. Stupito dalle sue performance, il vocalist Mike Muir decise di dar vita insieme a Trujillo ad un progetto collaterale, il complesso funk metal Infectious Grooves, sulle scene fin dal 1990. Robert Trujillo è diventato bassista dei Metallica il 24 febbraio 2003, dopo l'abbandono di Jason Newsted e grazie ad un accordo con i tre membri storici James Hetfield, Lars Ulrich e Kirk Hammett. Con Benji Webbe (Skindred, Dub War), Trujillo ha fondato anche i Mass Mental, che in Giappone hanno rilasciato l'album How To Write Love Songs. Per un po' di tempo, ha anche suonato il basso per Jerry Cantrell. Death Magnetic, l'annunciato ritorno dei Metallica al thrash degli esordi, è il primo album registrato in studio con Robert al basso.
LA SCHEDA

.
Venice, California, 23 ottobre 1964
RUOLO:
bassista.
BAND:
Metallica.
CARRIERA:
Suicidial Tendencies, Infectius Groove, Mass Mental, Cyco Miko, Black Label Society, Ozzy Osbourne, Metallica.
CENNI BIOGRAFICI:
Dopo una vita a suonare in giro per varie band (soprattutto i Suicidal Tendencies), nel 2003 ha rilevato da Jason Newsted il basso dei Metallica.