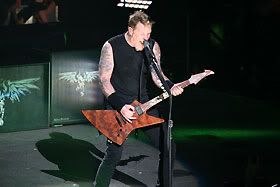 April 1, 2009
.
Palais Omnisport de Bercy, Paris, FRA-
Il tour europeo dei Metallica si sposta in Francia, nella capitale parigina. Lo show è, come sempre, incandescente. Tra i classici di sempre, oltre alle hit del Black Album e alla sempre unica Master Of Puppets, spiccano Disposable Heroes e Damage Inc. Come cover viene scelta Stone Dead Forever, dei mitici Motorhead. Phantom Lord e Seek & Destroy concludono alla grande la serata francese dei quattro cavalieri.

SETLIST:
That Was Just Your Life- The End of the Line- Harvester Of Sorrow- Disposable Heroes- One- Broken, Beat & Scarred- Cyanide- Sad But True- The Unforgiven- The Judas Kiss
-
Kirk Solo #1- The Day That Never Comes- Master Of Puppets- Damage, Inc.- Kirk Solo #2- Nothing Else Matters- Enter Sandman- Stone Dead Forever- Phantom Lord- Seek and Destroy.