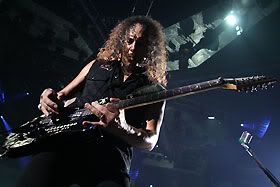 July 13, 2009
.
Palacio de Deportes, Madrid, SPA-

Dopo Barcellona, Madrid. La calda capitale spagnola abbraccia i Four Horsemen per la settima volta dal 1987. La sorpresa riservata ai fans castigliani è 'Battery', che rimbomba per la sesta volta nel 2009. Il resto della scaletta prevede un ritorno ai sei pezzi di 'Death Magnetic', con tanto di doppia opener a inizio scaletta. Nelle ultime uscite i Metallica avevano accantonato i brani nuovi preferendo un ritorno ai classici: nella prima notte madrilena i classici si limitano 8ma limitare è un verbo riduttivo) a colossi come 'For Whom The Bell Tolls', 'Motorbreath' e le immancabili 'Master Of Puppets' e 'Seek & Destroy', canonica conclusione di serata.

SETLIST:
That Was Just Your Life- The End of the Line- For Whom The Bell Tolls- Holier Than Thou- One- Broken, Beat & Scarred- Cyanide- Sad But True- Turn the Page- All Nightmare Long- Kirk Solo #1- The Day That Never Comes- Master Of Puppets- Battery- Kirk Solo #2- Nothing Else Matters- Enter Sandman- Blitzkrieg- Motorbreath- Seek and Destroy.