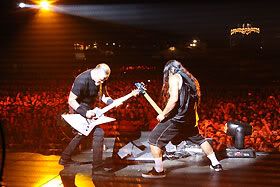 July 18, 2009
-
Folkets Park Sonisphere, Hultsfred, SWE.
Si ritorna nuovamente al passato: lo si capisce con la distorsiva e corrosiva coppia d'introduzione 'Battery- Creeping Death', seguita da un paio di hit degli anni '90 e rafforzata dalle emozioni vibranti di 'Fade To Black'. Era dall'ottobre 2004, in uno show in Florida, che i Quattro Cavalieri non sceglievano 'Battery' come opener: lo fanno a Hultsfred, cittadina svedese che li vede protagonisti per la prima volta nella loro lunga carriera. E' anche la prima volta che in Svezia viene suonata la velocissima 'Hit The Lights', la prima scintilla di thrash metal, scritta da un giovanissimo hetfield ai tempi dei Leather Charm e poi divenuta il primo pezzo dei neonati Metallica, che finì dritta su Metal Massacre I e poi sul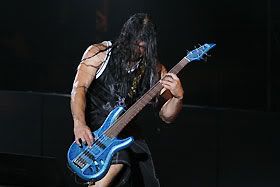 celebre Kill'Em All. La cover scelata è Last caress dei Misfits, il gruppo tanto amato dal compianto Cliff Burton; 4 gli estratti da Death magnetic, mentre direttamente dal 1988 arrivano il classico 'One' e la devastante 'Dyers Eve', che in questo tour è diventata un piacevolissimo cardine delle scalette. Un concerto dei Metallica non è tale senza 'Master Of Puppets' e 'Seek&Destroy': via al delirio!
SETLIST:
Battery- Creeping Death- Fuel- Of Wolf and Man- Fade to Black- Broken, Beat & Scarred- Cyanide- Sad But True- One- All Nightmare Long- Kirk Solo #1- The Day That Never Comes- Master Of Puppets- Dyers Eve- Kirk Solo #2- Nothing Else Matters- Enter Sandman- Last Caress- Hit The Lights- Seek and Destroy.