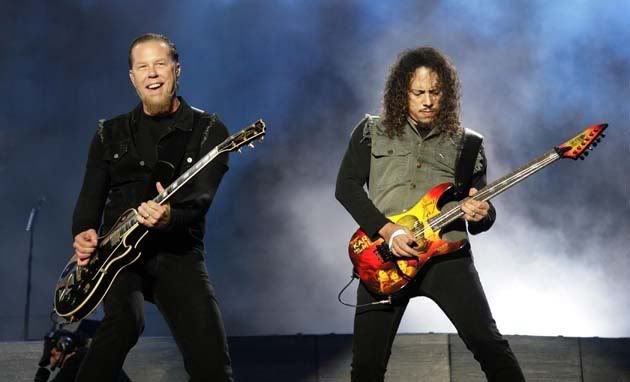 FALCIATRICE DELLA SOFFERENZA.
Testo duro e serioso, ma molto ambiguo: alcuni pensano parli di un uomo che, drogato e alcolizzato, tortura i suoi cari prima di ucciderli; altri pensano si riferisca ad un rapporto difficile tra James e suo padre, mentre altri ancora parlano di una canzone incentrata sulla schiavitù, altri aborto e altri ancora che ritengono si tratti di un testo che parla di soggetti istigatori del male. Infine c'è chi pensa si tratti del genocidio degli ucraini ai tempi dell'URSS, quando i russi si appropiavano dei loro raccolti. L'ipotesi più accreditata è la prima, e parla di un uomo di mezza età che si rende conto di aver fallito tutta la sua vita. Così, in preda all'alcool, fa una strage della sua famiglia. I Metallica parlano sempre in prima persona, calandosi come loro consuetudine nei panni del protagonista. Ciò permette a James di meglio rappresentare la spazzatura e le assurdità che regolano le nostre esistenze. Il timore di essere ingannati per tutta la vita si manifesta in questo caso con la 'mietitrice di dolore', ovvero la morte: uno dei quattro cavalieri dell'apocalisse, per restare in tema. 'Guardami negli occhi, Capirai dove si nasconde l'assassino': l'assassino, il killer della porta accanto, può essere ovunque e questo denuncia la cattiveria insita per natura in ognuno di noi.
HARVESTER OF SORROW.

My life suffocates Planting seeds of hate I've loved, turned to hate Trapped far beyond my fate I give, you take This life that I forsake Been cheated of my youth You turned this lie to truth Anger, misery You'll suffer unto me Harvester of sorrow Language of the mad Harvester of sorrow Pure black, looking clear My work is done soon here Try getting back to me Get back which used to be Drink up Shoot in Let the beatings begin Distributor of pain Your loss becomes my gain All have said their prayers Invade their nightmares To see into my eyes You'll find where murder lies Infanticide Harvester of sorrow Language of the mad Harvester of sorrow Language of the mad Harvester of sorrow.

FALCIATRICE DELLA SOFFERENZA.

La mia vita soffoca Non faccio che seminare odio Anche il mio amore, è diventato odio Imprigionato ben oltre ciò cui sono destinato Io do Tu prendi Questa vita alla quale io rinuncio La mia gioventù mi ha ingannato Questa bugia grazie a te è diventata una Verità Rabbia Angoscia Soffrirai in me Sei Causa di Dolore E' il linguaggio del pazzo che semina dolore Nero puro che sembra trasparente Qui tra breve avrò finito il mio lavoro Fatti sentire Torna a com'eri una volta Finisci di bere Spara Lascia che fiocchino le punizioni Semini dolore La tua partita è la mia fonte di guadagno Ognuno ha pregato Sei sempre nel loro incubi Guardami negli occhi Capirai dove si nasconde l'assassino Uccidi bambini Sei Causa di dolore Questo è il linguaggio del pazzo Sei causa di dolore Il linguaggio del pazzo Causa di dolore.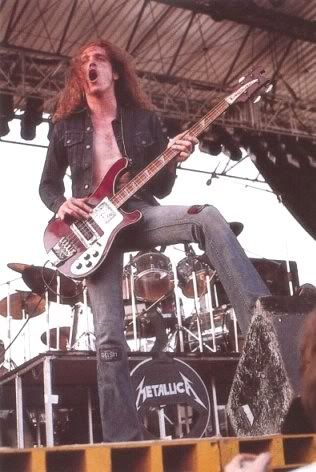 COSA SAREBBE STATO?
COSA sarebbero diventati i Metallica con Cliff Burton, dopo 'Master Of Puppets'? Quello che è certo è che 'And Justice For All' è frutto dei primi appunti tracciati, per un nuovo album, già assieme al compianto bassista; quindi l'evoluzione tecnica della band lascia presagire ad una crescita della band in quest'ottica. Con Cliff, il successore di 'Justice' -se non 'Justice' stesso- sarebbe potuto essere un gioiello del technical thrash metal, magari ancor più dei 'rivali' Megadeth e vicino allo stile dei canadesi Annihilator. James e Lars hanno sempre dichiarato di aver ereditato da Cliff il loro stile compositivo. Di certo però non lo hanno più utilizzato con l'uscita del Black Album: sicuramente Cliff non sarebbe stato partecipe della svolta commerciale della band, aprendo gli occhi agli amici e mantenendosi su standard di musica più grezza. Se proprio i Metallica avessero preso la direzione opposta al tecnicismo, con Cliff si sarebbe tornati allo stile di Kill'Em All se non ad un sound ancora più grezzo e punkeggiante, scarno ma non commerciale.