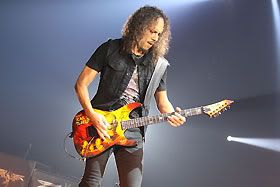 July 23, 2009
.
Copenhagen Forum, Copenhagen, DENMARK.
Sedicesima apparizione dei Quattro Cavalieri a Copenaghen, ennesima di questo Death Magnetic Tour che tante date sta riservando alla capitale danese. La band attinge canzoni da tutti i primi 5 album , oltre che da Garage Inc e, naturalmente, dall'ultimo nato in casa Four Horsemen. La sorpresa di serata è 'No remorse', mai suonata nel paese di Lars Ulrich negli ultimi sei anni. Addirittura dal 1997, invece, la Danimarca non ascoltava la cover motorheadiana 'Helpless'. Infine, prima volta assoluta di 'Hit The Lights' nella metropoli scandinava.
SETLIST:
That Was Just Your Life- The End of the Line- For Whom The Bell Tolls- Wherever I May Roam- One- Broken, Beat & Scarred- No Remorse- Sad But True- Welcome Home (Sanitarium)- My Apocalypse- Kirk Solo #1- The Day That Never Comes- Master Of Puppets- Blackened- Kirk Solo #2- Nothing Else Matters- Enter Sandman- Helpless- Hit The Lights- Seek and Destroy.