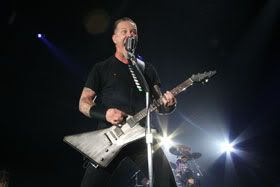 July 20, 2009
-
Copenhagen Forum, DEN.
Copenaghen e la Danimarca sono sempre luoghi di ricordi controversi, per i Metallica. La città natale di Lars Ulrich è anche quella in cui la band avrebbe dovuto suonare, in una bastarda notte del 1986, se nel viaggio verso la capitale danese il tourbus non si fosse rovesciato su se stesso ammazzando il povero Cliff Burton. I Metallica recuperarono la data dopo l'estate.
Ed è la diciassettesima volta, la prima dal 2004, che i Quattro Cavalieri suonano sotto le porte di casa Ulrich. Pezzi forti della scaletta sono le urticanti e velocissime 'Motorbreath' e 'Fight Fire With Fire'. ben pubblicizzato 'eath Magnetic', presente con 6 brani. Le cover sono state 'Turn the Page' e 'Die Die My Darling'. Il terremoto di 'Master of Puppets' è esploso, come consuetudine, a metà setlist. Questa è la prima di ben cinque date nella città scandinava, intervallate solo da uno show finlandese.

SETLIST:
That Was Just Your Life- The End of the Line- Harvester Of Sorrow- Fuel- One- Broken, Beat & Scarred- Cyanide- Sad But True- Turn the Page- All Nightmare Long- Kirk Solo #1- The Day That Never Comes- Master Of Puppets- Fight Fire With Fire- Kirk Solo #2- Nothing Else Matters- Enter Sandman- Die Die My Darling- Motorbreath- Seek and Destroy.