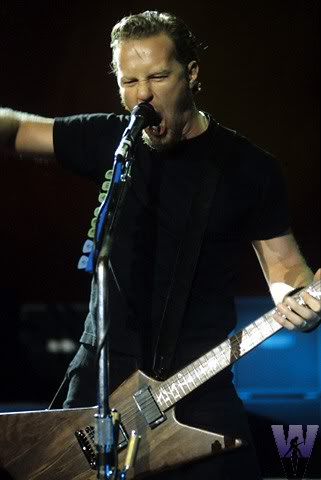 GARAGE INC. (1998).
Nel 1998 i Metallica registrarono il doppio album di cover Garage Inc.. Il primo cd del disco conteneva degli inediti, ispirati da band come Misfits, Thin Lizzy, Mercyful Fate, Black Sabbath e perfino da Bob Seger (la sua cover Turn the Page, di discreto successo radiofonico) e Nick Cave. Il secondo raccoglieva invece tutte le canzoni di Garage Days Re-Revisited, le cover più recenti e b-side risalenti al 1984. Dal disco fu estratto anche il singolo Whiskey in the Jar, cover dei Thin Lizzy, vincitore di un Grammy come Best Hard Rock Performance nel 2000. Il disco è un pezzo interessante, perchè ci mostra dei Metallica allo stesso tempo inediti e old style: inediti perchè si cimentano in un rock-metal che profuma di anni '70/80, old style perchè gran parte di quelle cover erano quelle che James suonava a 15 anni, ancor prima di entrare nei Metalica. E che poi ha portato nei primi concerti dei giovanissimi Metallica, insomma un pezzodi storia e di loro cuore. Specialmente Sabra Cadabra, dei mitici Black Sabbath, o l'esaltante e passionale Whiskey In The Jar, dei loro amati Thin Lizzy. che dire poi degli ampi tributi ai loro amici Motorhead (ben 4 pezzi in onore del mitico Lemmy) o ai Mecryful Fate di King Diamond (un bel medley sul disco 1). Alcune di queste cover sono diventate dei classici immancabili della stessa band californiana (Am I Evil?, So What? e Last Caress), mntre è stato omaggiato perfino il grande Freddie Mercury con la velocissima Stone Cold Crazy dei suoi Queen. Isomma, sarà stato anche un periodo pieno di critiche per i Metallica reduci dai vari Load e Reload, però questo Garage Inc ha permesso loro di guadagnare altri punti in rispetto e considerazione. Un'altra opera da conservare gelosamente.

GARAGE INC.
(1998).
GENERE:
hardrock, heavy metal.
TRACKLIST CD1:
Free Speech for the Dumb (Discharge), It's Electric (Diamond Head), Sabbra Cadabra (Black Sabbath), Turn the Page (Bob Seger), Die, Die My Darling (Misfits), Loverman (Nick Cave and the Bad Seeds), Mercyful Fate (Mercyful Fate), Astronomy (Blue Öyster Cult), Whiskey in the Jar (Thin Lizzy), Tuesday's Gone (Lynyrd Skynyrd), The More I See (Discharge);
TRACKLIST CD2:
Helpless (Diamond Head), The Small Hours"(Holocaust), The Wait (Killing Joke), Crash Course in Brain Surgery (Budgie), Last Caress/Green Hell (Misfits), Am I Evil? (Diamond Head), Blitzkrieg (Blitzkrieg), Breadfan (Budgie), The Prince (Diamond Head), Stone Cold Crazy (Queen), So What (Anti-Nowhere League), Killing Time (Sweet Savage), Overkill (Motörhead), Damage Case (Motörhead), Stone Dead Forever, Motörhead), Too Late Too Late (Motörhead.).