JAMES NON DIMENTICA UNTIL IT SLEEPS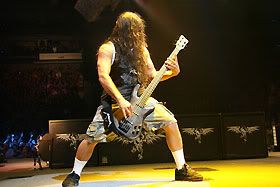 Sprint Center, Kansas City, MO- October 25, 2008. ospita la terza tappa del tour dei Metallica. I quattro cavalieri aprono col combo opener di Death Magnetic e rispolverano due classici come Harvester Of Sorrow e la marziale Ride The Lightning, col suo riff incontrollabile e tanto sapore di anni 80. La malinconica, bombarola melodia di One rallenta il ritmo e lo riaccelera nel finale, agganciandosi a due dei nuovi cavalli di battaglia: Broken, Beat & Scarred (trascinante) e Cyanide. Ancora riproposta Until It Sleeps: in fondo il testo parla del cancro, e di come esso abbia portato alla morte i genitori di James, e non è da escludere l'elemento sentimentale nel suonare così spesso un pezzo non fondamentale nell'oceanica discografia del combo di Frisco. Nella mitragliata della secnda parte di scaletta spiccano l'immortale Master Of Puppets, grandi classici in serie (da Fight Fire With Fire a Enter Sandman, da Motorbreath a Wherever I May Roam) e, insolitamente, una sola cover (Last Caress) prima che Seek & Destroy riporti il disordine più totale tra gli spettatori.
SE
TLIST
.
That Was Just Your Life- The End of the Line- Harvester Of Sorrow- Ride The Lightning- One- Broken, Beat & Scarred- Cyanide- Sad But True- Until It Sleeps- Wherever I May Roam- Kirk Solo #1- The Day That Never Comes- Master Of Puppets- Fight Fire With Fire- Kirk Solo #2- Nothing Else Matters- Enter Sandman- Last Caress- Motorbreath- Seek and Destroy.