E GIUSTIZIA PER TUTTI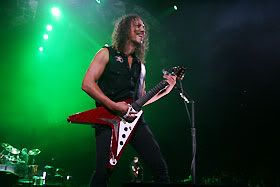 Rose Garden, Portland, OR- November 1, 2008.
Il carrozzone Metallica transita da Portland, e sono scintille: al combo iniziale che introduce Death Magnetic segue un trittico da paura (For Whom The Bell Tolls- Ride The Lightning- One), ma soprattutto viene riproposta la potentissima 'And Justice For All', per la prima volta nel World Tour da poco partito. Tra i classicissimi, No Remorse fa sempre la sua porca figura. Evidentemente i Metallica hanno preso gusto a risuonare con frequenza la tritolica Fight Fire With Fire. Tra le cover vengono omaggiati nuovamente i Queen e Freddie Mercury con Stone Cold Crazy. Le immancabili 'Master Of Puppets' e 'Seek & Destroy' gettano la classica dose di mortaretti nelle menti già cerebrolese della folla pogante. Come sempre i quattro cavalieri hanno fatto giustizia al Verbo del metallo.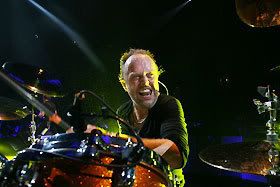 SETLIST
.
That Was Just Your Life- The End of the Line- For Whom The Bell Tolls- Ride The Lightning- One- Broken, Beat & Scarred- Cyanide- Sad But True- And Justice for All- No Remorse- Kirk Solo #1- The Day That Never Comes- Master Of Puppets- Fight Fire With Fire- Kirk Solo #2- Nothing Else Matters- Enter Sandman- Last Caress- Stone Cold Crazy-Seek and Destroy