ASSOCIAZIONE DANNI SPA
TORNA A DISTRUGGERE!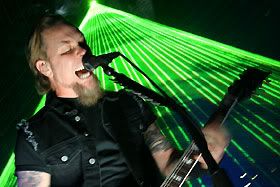 Pepsi Center , Denver, CO- November 4, 2008.
Associazione danni s.p.a.: è Damage Inc la sorpresa che i Metallica regalano al pubblico di Denver. Una delle canzoni più cattive dell'intera discografia dei four horsemen. Viene piazzata a metà serata, subito dopo Master Of Puppets, quando il delirio è palpabile e il pogo scatenato. La grande notte di Denver aveva già vibrato per i pezzi nuovi e per la non troppo frequente Ride The Lightning, e ancora avrebbe tremato sotto i tellurici riff di Hit The Lights, accoppiata al massacro finale di Seek & Destroy. Tra le 'chicche' la reloadiana The Memory Remains e la cover Last Caress.
SETLIST.
That Was Just Your Life- The End of the Line- Ride The Lightning- The Memory Remains- One- Broken, Beat & Scarred- Cyanide- Sad But True- Wherever I May Roam- For Whom The Bell Tolls- Kirk Solo #1- The Day That Never Comes- Master Of Puppets- Damage, Inc.- Kirk Solo #2- Nothing Else Matters- Enter Sandman- Last Caress- Hit The Lights- Seek and Destroy.