LA NOTTE DEL MESSIA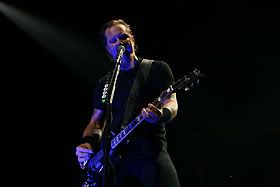 Schottenstein Center, Columbus, OH- November 9, 2008.
Columbus, capitale dello stato di Ohio: anche qui i Metallica esplodono il thrash metal riservando un concerto degno del loro nome, impreziosito da perle non comuni come Leper Messiah la mitica Jump In The Fire. Agli estratti di Death Magnetic si affiancano i classici di sempre, dall'accppiata Battery-Master Of Puppets alle varie One, Enter Sandman e Nothing Else Matters., Il combo di Frisco non risparmia cartucce di thrash di antica e immortale matrice, come Creeping Death e Ride The Lightning. Una serata monumentale, indimenticabile per gli spettatori dello Schottenstein Center.

SETLIST:
That Was Just Your Life- The End of the Line- Creeping Death- Ride The Lightning- One- Broken, Beat & Scarred- Cyanide- Sad But True- Wherever I May Roam- Leper Messiah- Kirk Solo #1- The Day That Never Comes- Master Of Puppets- Battery- Kirk Solo #2- Nothing Else Matters- Enter Sandman- Die Die My Darling- Jump in the Fire- Seek and Destroy.