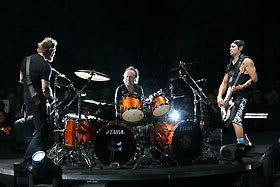 January 15, 2009
.
Verizon Center, Washington, DC-

La capitale degli Stati Uniti d'America saluta la calata dei Metallica di James Hetfield la notte del 15 gennaio. E' la sedicesima volta che la band si esibisce nella città della Casa Bianca da quel Damage Inc tour del 1986: l'ultimo precedente era datato 2004. L'energico show si contraddistingue per la presenza, nella prima parte, della sempre corrosiva 'the Four Horsemen'. Presenti tutti i classici del gruppo, da master Of Puppets a Enter Sandman, senza dimenticare le lente One e Nothing Else matters. L'apocalisse finale è destininato a Motorbreath e, ovviamente, Seek & Destroy.
SETLIST:
That Was Just Your Life- The End of the Line- The Four Horsemen- Harvester Of Sorrow- One- Broken, Beat & Scarred- Cyanide- Sad But True- Wherever I May Roam- All Nightmare Long- Kirk Solo #1- The Day That Never Comes- Master Of Puppets- Battery- Kirk Solo #2- Nothing Else Matters- Enter Sandman- Die Die My Darling- Motorbreath- Seek and Destroy.