FURIA E POGO A DETROIT

January 13, 2009
.
Joe Louis Arena, Detroit, MI-

Ventiduesimo show dei Metallica in quel di Detroit; dalla prima volta, nel 1985, sono passati 23 anni. E' una band ancora in gran forma quella che sale sul palco della Joe Louis Arena, aprendo lo show con le due nuove opener e proseguendo con due pezzi di 'Ride The Lightning' e tre da 'Master of Puppets': su questi spicca la violentissima Damage Inc., una scarica di brutalità sempre salutare. Oltre all'immancabile One, vengono presentate le tre hit principali del Black Album, a conferma della varietà delle scalette della band (che in alcune uscite di fine 2008 aveva dato buono spazio al disco omonimo). Due cover anticipano il pogo finale scatenato da Seek & Destroy.
SETLIST:
That Was Just Your Life- The End of the Line- Creeping Death- For Whom The Bell Tolls- One- Broken, Beat & Scarred- Cyanide- Sad But True- Welcome Home (Sanitarium)- All Nightmare Long- Kirk Solo #1- The Day That Never Comes- Master Of Puppets- Damage, Inc.- Kirk Solo #2- Nothing Else Matters- Enter Sandman- Last Caress- Breadfan- Seek and Destroy.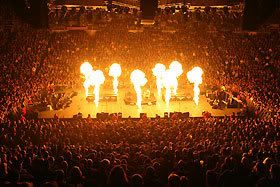 IL COMMENTO DI UN AMICO DAL MICHIGAN!
(A comment of a friend from Michigan!). 'hey the metallica concert was the best day of my life. they played the songs one, creeping death, the four horsemen, seek and destroy. i will never forget it. we sat right by the moshpit but i did't go in it'.
Mitchell.