THRASH METAL OLD STYLE
Cox Arena, San Diego, CA- December 15, 2008.
Undicesima apparizione dei Metallica in quel di San Diego, California piena e chilometri di spiagge da sballo. I Metallica deliziano ancora le energie dei presenti con Ride The Lightning dopo le opener di Death Magnetic, e poi regalano alla scaletta piccoli gioielli di thrash metal old style come No Remorse e Hit The Lights. Ovviamente non mancano imprescindibili leggende come Master Of Puppets, One e la conclusiva Seek & Destroy. La prima volta che i quattro cavalieri avevano suonato a San Diego era stato nel 1985, nel Ride The Lightning tour.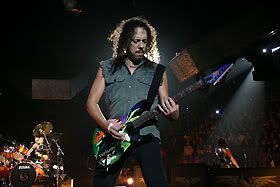 SETLIST-
That Was Just Your Life- The End of the Line- Ride The Lightning- The Memory Remains- One- Broken, Beat & Scarred- Cyanide- Sad But True- All Nightmare Long- No Remorse- Kirk Solo #1- The Day That Never Comes- Master Of Puppets- Blackened- Kirk Solo #2- Nothing Else Matters- Enter Sandman- Die Die My Darling- Hit The Lights- Seek and Destroy