FRUSTATA METALLICA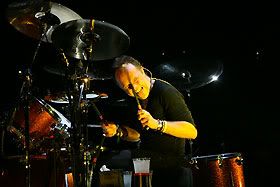 Citizens Business Bank Arena, Ontario, CA- December 12, 2008.
Whiplash! Il pubblico della
Citizens Business Bank Arena
si gode un pezzo estremo di Kill'Em All, quella Whiplash che in questo tour non si era vista frequentemente. I Metallica lasciano il Canada e tornano nella natia California, la terra della Bay Area, per suonare ad Ontario che, appunto, non è la famosa provincia canadese ma solo un caso di omonimia. Velocissima, con i suoi riff serrati e il suo inno autocelebrativo ('Noi non ci fermeremo, perchè siamo i Metallica'), Whiplash fu uno dei primi fuochi del thrash metal. Uno dei primi cavalli di battaglia della band, che in questo pezzo esalta la passione e la pazzia che l'heavy metal scatena nei propri adepti. La storia è anche Ride The Lightning, esplosa dopo le due opener di death Magnetic; la storia è For Whom The Bell Tolls, subito succeduta alla marziale title track del secondo disco della band. E che dire dell'apocalittica One, che con le sue esplosioni e il suo incedere potene e malinconico mette sempre i brividi! A questo trittico di storia segue un filetto di pezzi nuovi, in cui spicca All Nightmare Long, interrotti solo da un paio di classici come Welcome Home. The Day That Never Comes è un'altra One, Master Of Puppets invece è unica e immortale. I cuori palpitano nella canzone delle canzoni, e si eccitano con la successiva Blackned. Tra i brani finali spicca la cover dei Queen (Stone Cold Crazy) e la citata Whiplash, mentre la classicisima adrenalina di Seek & Destroy chiude il sipario sull'ennesima pioggia di energia griffata MetallicA.
SETLIST-
That Was Just Your Life- The End of the Line- Ride The Lightning- For Whom The Bell Tolls- One- Broken, Beat & Scarred- Cyanide- Sad But True- Welcome Home (Sanitarium)- All Nightmare Long- Kirk Solo #1- The Day That Never Comes- Master Of Puppets- Blackened- Kirk Solo #2- Nothing Else Matters- Enter Sandman- Stone Cold Crazy- Whiplash- Seek and Destroy.