THRASH NELLA PATRIA DEL GLAM!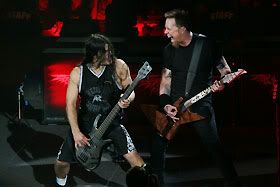 The Forum, Los Angeles, CA- December 17, 2008.
Sono partiti da qui i Metallica, tantissimi anni fa. Los Angeles, la patria del glam metal: qui il loro thrash rovente e incazzato non era gradito, impazzavano i lustrini e i rossetti dei capelloni cotonati come Motley Crue e Poison, e i Metallica cercarono fortuna altrove. Diventando cittadini adottivi di San Francisco e alimentando col loro fuoco il mito della Bay Area. Quasi tre decadi dopo rieccoli qui, a suonare il thrash nella patria del glam: Creeping Death e Harvester Of Sorrow, All Nightmare Long e la debordante Damage Inc. E' la quarantesima volta che i quattro cavalieri si esibiscono qui: la prima fu il 27 marzo 1982 al Whisky A Go Go di Holliwood (fu il loro terzo show assoluto). Sorpresa di giornata è la cover dei Misfits Gren Hell, affiancata alla ormai classica Last Caress. Los Angeles con le sue spiagge e il suo clima mediterraneo è una delle perle della California. I Metallica, col loro repertorio di leggende (da Master Of Puppets a Seek & Destroy, da Unforgiven -suonata per la prima volta a Los Angeles- a Enter Sandman), sono una leggenda conclamata dell'heavy metal e ad ogni latitudine i loro show sono sempre distruttivi. Anche a Los Angeles, la patria del glam!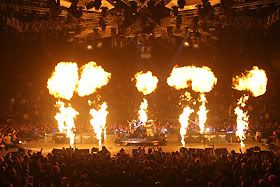 SETLIST-
That Was Just Your Life- The End of the Line- Creeping Death- Harvester Of Sorrow- One- Broken, Beat & Scarred- Cyanide- Sad But True- The Unforgiven- All Nightmare Long- Kirk Solo #1- The Day That Never Comes- Master Of Puppets- Damage, Inc.- Kirk Solo #2- Nothing Else Matters- Enter Sandman- Last Caress- Green Hell- Seek and Destroy.