METALLICA, PROFETI IN PATRIA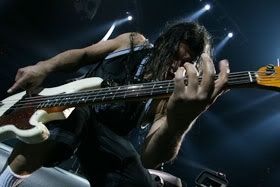 Save Mart Center , Fresno, CA- December 13, 2008.
California si legge thrash, per molti metallers come noi dediti al culto della Bay Area. E fresno, nel bel mezzo della California, abbraccia gli idoli Metallica con un pubblico delirante. Nella scaletta ormai classica di questo tour spiccano episodi feroci e storici come Fight Fire With Fire e Motorbreath. 'Master..' e 'Seek & Destroy' destano sempre l'energia maggiore della serata, mentre lecita curiosità suscitano i nuovi 6 brani estratti da Death Magnetic (su tutti That Was Just Your Life e All Nightmare Long).
SETLIST-
That Was Just Your Life- The End of the Line- Creeping Death- Wherever I May Roam- One- Broken, Beat & Scarred- Cyanide- Sad But True- The Unforgiven- All Nightmare Long- Kirk Solo #1- The Day That Never Comes- Master Of Puppets- Fight Fire With Fire- Kirk Solo #2- Nothing Else Matters- Enter Sandman- Last Caress- Motorbreath- Seek and Destroy.