FIRE AND JUSTICE!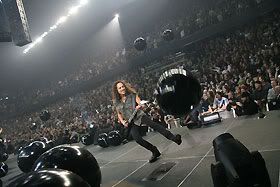 Pengrowth Saddledome, Calgary, AB- December 4, 2008.
And Justice For All e Fight Fire With Fire sono le cartucce forti della prima serata a Calgary dei Metallica. La scaletta zeppa di classici e con le solite 5 nuove canzoni tratte da Death Magnetic si caratterizza infatti per la presenza di questi due pezzi non sempre frequentissimi nelle date recenti della band. La stessa cover, Breadfan, non è certo un classico del combo di Frisco! Siamo in Canada, a est delle montagne rocciose: è qui che prosegue il lungo viaggio su e giù per il mondo della band più grande di sempre!

SETLIST:
That Was Just Your Life- The End of the Line- Creeping Death- Harvester Of Sorrow- One- Broken, Beat & Scarred- Cyanide- Sad But True- And Justice for All- Wherever I May Roam- Kirk Solo #1- The Day That Never Comes- Master Of Puppets- Fight Fire With Fire- Kirk Solo #2- Nothing Else Matters- Enter Sandman- Last Caress- Breadfan- Seek and Destroy.