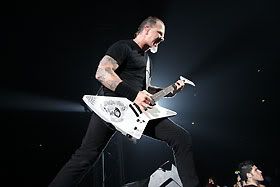 June 24, 2009- Palalottomatica, Rome, ITA.
La galoppata su suolo italiano dei quattro cavalieri si sposta da Milano a Roma, ed è un evento storico. Infatti i Metallica si esibiscono nella Capitale del Colosseo per la terza volta nella loro carriera, la prima negli ultimi 13 anni. E le sorprese non mancano per gli headbangers capitolini, che se da un lato perdono le nuove killer tracks come 'All Nightmare Long' e 'My Apocalypse' (alle quali vengono preferite 'Cyanide' e 'The Judas Kiss'), dall'altro si godono la massacrante 'Dyers Eve, uno dei loro pezzi più cruenti e sottovalutati, e la cover di 'Stone Cold Crazy' dei Queen. Curioso anche un estratto da 'S&M', 'No Leaf Clover'. Immancabili e sempre devastanti i capolavori leggendari come 'Master...', 'Seek & Destroy' e la splendida 'Creeping Death', opener storica che in questo tour sembra aver perso la sua onnipresenza. L'ennesimo trionfo dei Four horsemen lascia a bocca aperta anche la città eterna.

SETLIST:
That Was Just Your Life- The End of the Line- Creeping Death- Of Wolf and Man- One- Broken, Beat & Scarred- Cyanide- Sad But True- No Leaf Clover- The Judas Kiss- Kirk Solo #1- The Day That Never Comes- Master Of Puppets- Dyers Eve- Kirk Solo #2- Nothing Else Matters- Enter Sandman- Stone Cold Crazy- Phantom Lord- Seek and Destroy.