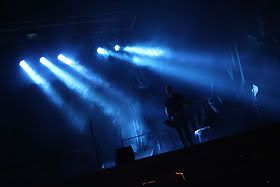 July 9, 2009
-
Optimus Alive 09, Lisbon, PR.

Lisbona riabbraccia i Metallica a poco più di un anno dallo splendido show del giugno 2008, in occasione del Rock In Rio. I Four Horsemen mettono a ferro e fuoco la calda città portoghese con il thrash minimale di 'FFWF', 'Whiplash' (suonata per la sesta volta in questo tour), e 'Blackened', ma anche con quello più strutturato di 'Leper Messiah', 'Seek & Destroy' e 'All Nightmare Long'. Ancora quattro i pezzi nuovi, tra i quali spicca 'All Nightmare Long'. Immancabile il pogo di 'Master Of Puppets' a metà scaletta, emozionanti 'Fade To Black', 'One' e 'For Whom...'. Ancora una volta la band di Hetfield delizia il proprio pubblico: è la settima volta che accade a Lisbona, la prima delle quali nel lontano 1993.

SETLIST:
Blackened- For Whom The Bell Tolls- Holier Than Thou- Leper Messiah- Fade to Black- Broken, Beat & Scarred- Cyanide- Sad But True- One- All Nightmare Long- Kirk Solo #1
-
The Day That Never Comes- Master Of Puppets- Fight Fire With Fire- Kirk Solo #2- Nothing Else Matters- Enter Sandman- Die Die My Darling- Whiplash- Seek and Destroy.