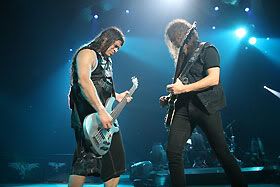 March 30, 2009
.
Ahoy, Rotterdam, HOL-
Quando i Metallica sfoderano le killer tracks di KEA e RTL, lo show è sempre il migliore possibile. Così a Rotterdam, accanto ai pezzi nuovi, esplodono No Remorse e FFWF, persino la remota Trapped Under Ice. Accanto ad All Nightmare Long e ai classici del Black Album (oltra a Of Wolf And Man), i quattro cavalieri di Frisco scazzottano la folla col macigno The Thing That Should Not Be e con la malinconica cover di Turn The Page. Inutile dirlo: con Master Of Puppets l'energia sale a mille. Seek & Destroy è ancor più trascinante: i cervelli rischiano di esplodere, il pogo diventa totale e la storia si consegna ancora una volta alla leggenda della musica rock e metal.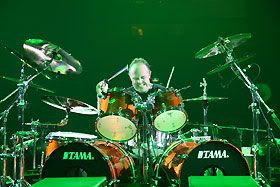 SETLIST:
That Was Just Your Life- The End of the Line- No Remorse- The Thing That Should Not Be- One- Broken, Beat & Scarred- My Apocalypse- Sad But True- Turn the Page- All Nightmare Long- Kirk Solo #1- The Day That Never Comes- Master Of Puppets- Fight Fire With Fire- Kirk Solo #2- Nothing Else Matters- Enter Sandman- Of Wolf and Man- Trapped Under Ice- Seek & Destroy.