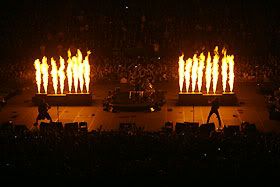 March 28, 2009
.
O2 Arena, London, GBR.

Inghilterra, Londra: la patria dell'heavy metal. Dal Regno Unito partirono le prime truppe delle Milizie di cuoio e metallo, e per la 64a volta l'Inghilterra accoglie i Metallica. Lo show è, naturalmente, pirotecnico. Due macigni come Harvester Of Sorrow e 'And Justice For All' sono i primi classici sfoderati
dalla band, che spara i soliti parecchi nuovi estratti dal nuovo album: ben 6. A sorpresa viene rispolverata The Outlaw Torn, da S&M, ovviamente senza le parti orchestrali. 'Master Of Puppets' è il pezzo che scatena sempre l'adrenalina più ardente: segue la dinamitarda Fight Fire With Fire. Non mancano i classici del Black Album. Strepitosa anche la cover di Overkill, dei Motorhead. Binomio finale da pogo incondizionato: Hit The Lights- Seek and Destroy, thrash metal ad alta infiammabilità!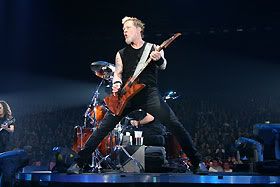 SETLIST:
That Was Just Your Life- The End of the Line- Harvester Of Sorrow- And Justice for All- One- Broken, Beat & Scarred- My Apocalypse- Sad But True- The Outlaw Torn- The Judas Kiss- Kirk Solo #1- The Day That Never Comes- Master Of Puppets- Fight Fire With Fire- Kirk Solo #2- Nothing Else Matters- Enter Sandman- Overkill- Hit The Lights- Seek and Destroy.