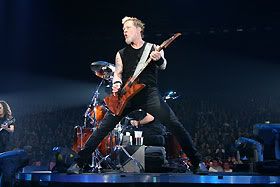 March 25, 2009.
LG NEC Arena, Birmingham, GBR-

I Metallica non si fermano davanti a nulla. Nemmeno i problemi che hanno rallentato James in Svezia (un virus intestinale: '
un'ostrica potrebbe avermi messo al tappeto', ha dichiarato Jimbo) impediscono ai Quattro Cavalieri di tornare in Europa a rimettere scompigli. In America erano già tornati su un palco (per promuovere Guita Hero), a Birmingham riabbracciano il Regno Unito e fanno fede più che mai al loro appellativo di Four Horsemen: debutta infatti la potente 'My Apocalypse', ennesimo estratto da Death Magnetic. Innovativa anche la cover, 'Hole In The Sky' dei Black Sabbath. Il binomio 'Master..'- 'Blackened' accende sempre di più la folla a metà scaletta: i vari classici mandano in estasi l'Arena, e Seek & Destroy conclude il massacro come da consuetudine.

SETLIST:
That Was Just Your Life- The End of the Line- Creeping Death- Ride The Lightning- One- Broken, Beat & Scarred- My Apocalypse- Sad But True- Welcome Home (Sanitarium)- The Judas Kiss- Kirk Solo #1- The Day That Never Comes- Master Of Puppets- Blackened- Kirk Solo #2- Nothing Else Matters- Enter Sandman- Hole In The Sky- The Prince- Seek and Destroy.