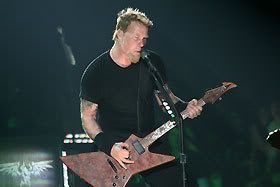 February 26, 2009
.
MEN Arena, Manchester, GBR-
Prosegue a Manchester, 441 mila abitanti, l'avventura europea dei Metallica. La grande città inglese, celebre soprattutto per il calcio e il suo Manchester United, ospita i quattro cavalieri per la quinta volta (la prima nel 1986, l'ultima dieci anni dopo) e non mancano le sorprese. Certo, i classici come Master Of Puppets, Enter Sandman e For Whom The Bell Tolls sono quelli che esplodono l'adrenalina più spettacolare; tuttavia i Metallica presentano 6 estratti da Death Magnetic (stavolta torna Cyanide e 'salta' All Nightmare Long): finora la band ha suonato 7 dei 10 pezzi nuovi, ma mai più di sei nella stessa data. Sorprese arrivano anche dalle cover: oltre a Blitzkrieg e The Prince (abbastanza insolite) poste prima della terremotante Seek & Destroy, infatti, viene proposta anche la malinconica Turn The Page, piazzata circa a metà scaletta. Grande entusiasmo arriva anche con Blackened, sempre potentissima.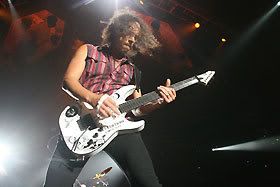 SETLIST:
That Was Just Your Life- The End of the Line- For Whom The Bell Tolls- Kirk Solo #1- Wherever I May Roam- One- Broken, Beat & Scarred- Cyanide- Sad But True- Turn the Page- The Judas Kiss- Kirk Solo #2- The Day That Never Comes- Master Of Puppets- Blackened- Kirk Solo #3- Nothing Else Matters- Enter Sandman- Blitzkrieg- The Prince- Seek and Destroy.