LA NOTTE DEI FANTASMI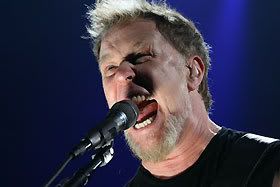 January 29, 2009
.
Nassau Coliseum , Uniondale, NY
-
I Metallica restano a fare fuoco e fiamme nel Newyorkese. A Uniondale propongono una scaletta altamente esplosiva, con la presenza della tambureggiante Damage inc.: thrash potente e velocissimo del più feroce mai composto dalla band. Come Phantom Lord, canzone tratta da Kill'Em All e proposta non sempre frequentemente: a Uniondale viene incastonata dopo le hit del Black Album (e la cover dei Queen 'Stone Cold Crazy') e la conclusiva Seek & Destroy, cantata a squarciagola dal delirante pubblico del Nassau Coliseum.
SETLIST:
That Was Just Your Life- The End of the Line- Creeping Death- The Thing That Should Not Be- One- Broken, Beat & Scarred- Cyanide- Sad But True- The Unforgiven- All Nightmare Long- Kirk Solo #1- The Day That Never Comes- Master Of Puppets- Damage, Inc.- Kirk Solo #2- Nothing Else Matters- Enter Sandman- Stone Cold Crazy- Phantom Lord- Seek and Destroy.