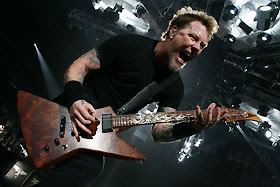 February 1, 2009
.
Prudential Center, Newark, NJ-

La seconda serata a Newark, New Jersey, conclude il tour dei Metallica nel Nordamerica.
Scaletta classica, con le due opener di Death Magnetic seguite dalla roboeggiante Creeping Death e dal solito mastodontico repertorio di classici (Harvester Of Sorrow, One, Sanitarium, Blackned, Nothing Else matters, Enter Sandman) con la terremotante Master Of Puppets piazzata a metà serata per far sfogare il pubblico come si deve. Pochi pezzi vengono tratti dal seminale Kill'Em All. Le cover sono Die ie My Darling e la piuttosto inedita Breadfan. Seek & Destroy, manco a dirlo, è il temibile apocalisse che chiude la razzia dei quattro cavalieri sul loro continente.
SETLIST:
That Was Just Your Life- The End of the Line- Creeping Death- Harvester Of Sorrow- One- Broken, Beat & Scarred- Cyanide- Sad But True- Welcome Home (Sanitarium)- All Nightmare Long- Kirk Solo #1- The Day That Never Comes- Master Of Puppets- Blackened- Kirk Solo #2- Nothing Else Matters- Enter Sandman- Die Die My Darling- Breadfan- Seek and Destroy.