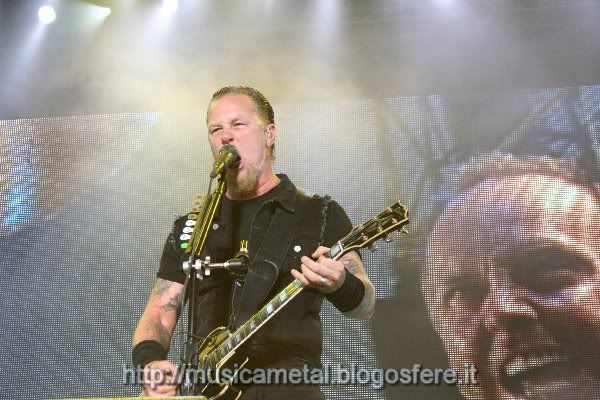 BOLOGNA, 22 LUGLIO 2008-
E' stato un massacro. I Metallica hanno vomitato su Bologna una serie di riff distruttivi in una sassaiola di pezzi storici che sono tra i più amati del proprio repertorio. Se nel 2006 la band suonava per intero Master Of Puppets, in occasione del ventennale del disco, a Bologna ci hanno scatenato traendo ben 5 tracks da Kill'Em All. Anche Ride The Lightning, con 4 brani, è stato ripassato con perizia, mentre di Mastr Of Puppets ci siamo goduti "solo" la title track. 3 estratti da And Justice, 2 dal Black Album e infine uno da Load, più la cover di So What? Il concerto si aperto con Creeping Death, ovviamente, pezzo che omai da anni introduce le esibizioni dei quattro dell'apocalisse. Invece di Fuel come seconda scelta è partita For Whom The Bell Tolls, solenne come sempre. James ha confermato quanto rivelato in una recente intervista, e cioè che quando i Metallica tornano in Europa amano suonare pezzi datati non troppo frequenti: difatti Ride The Lightning e And Justice For All, title track dei mitici album del 1984 e del 1988, sono state sorprese graditissime; ma anche Bleeding Me (tratta da Load) è stata una variante simpatica. A mega classici come Harvester Of Sorrow e The Four Horsemen è stata aggiunta anche una terrificante No Remorse, ancora da Kill'Em All. Un brano grandioso ma che nella serie di canzoni leggendarie di quell'album viene troppo spesso messa dietro ad altre song. Del rsto in un capolavoro simile è difficile trovare tracce deboli: non ce ne sono. Così mentre la folla si scatena per due colonne insostituibili come Master Of Puppets e Whiplash, i Metallica sanno anche dare emozioni diverse: con canzoni del calibro di Fade To Black (1984), One (1988) e Nothing Else Matters (1991): un trittico da pelle d'oca. Enter Sandoman e Sad But True sono il giusto tribto al popolare Black Album, prima dell'ennesimo doppio tributo a quel Kill'Em All che ha fatto epoca: la devastante accoppiata Motorbreath-Seek & Destroy. Come di rito, la killer track che chiude ogni concerto della band, scatenando i fan.
01.
Creeping Death-
02.
For Whom The Bell Tolls-
03.
Ride The Lightning-
04.
Harvester Of Sorrow-
05.
Bleeding Me-
06.
The Four Horsemen-
07.
...And Justice For All-
08.
No Remorse-
09.
Fade To Black-
10.
Master Of Puppets-
11.
Whiplash-
12.
Nothing Else Matters-
13.
Sad But True-
14.
One-
15.
Enter Sandman-
16.
So What?-
17.
Motorbreath-
18.
Seek & Destroy.