WORLD MAGNETIC TOUR.
Dopo le date in Brasile e Argentina, i Metallica si prendono a febbraio un mese di pausa e tornano on the road il 1 marzo a Guadalajara, in Messico: 'Creeping Death' è tornata l'opener classica, la band alterna sapientemente i pezzi nuovi con i cavalli di battaglia classici [come Whiplash o Battery], ripetendosi poi nella seconda data messicana, in quel di Monterrey [dove esplodono anche 'Damage Inc' e 'Motorbreath'!]; la carovana si sposta quindi in Guatemala [il 5 marzo nella capitale, Guatemala City] e Costa Rica, prima di toccare Panama, Colombia, Venezuela e Puerto Rico, talvolta riutilizzando come opener 'That Was Just Your Life'. 'Master Of Puppets' e la finale 'Seek & Destroy' sono sempre i momenti più devastanti per i moshpit sudamericani. Da segnalare, purtroppo, i disordini avvenuti fuori dai cancelli a causa di fans troppo esagitata Bogotà, in Colombia[10 marzo].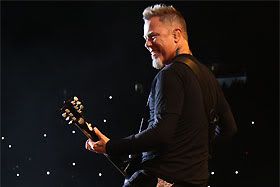 LIVE REPORT-
GUADALAJARA, MESSICO
1 MARZO 2010

GUADALAJARA.
I Metallica arrivano in Messico e suonano per la prima volta un concerto intero a Guadalajara: è la data numero 130 del World Magnetic Tour. Nella tracklist spiccano le tre tracce estratte da 'Kill'Em All' [The Four Horsemen, Whiplash e la conclusiva orgia di Seek & Destroy], 3 da 'Ride The Lightning' [l'opener terrificante Creeping Death, la dolce Fade To Black e la solenne For Whom The Bell Tolls] e le due da 'Master Of Puppets': oltre alla celebre e immancabile titletrack, a scatenare i fans è la terremotante Battery. One è l'unico pezzo datato 1988, mentre dal Black Album arrivano le solite tre hits e la meno consueta Trough The Never. Cover di turno è Breadfan, mentre i pezzi nuovi prescelti sono That Was Just Your Life, The End Of The Line, Broken, Beat & Scarred e The Judas Kiss.