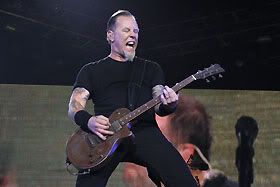 June 6, 2009
.
Foro Sol, Mexico City, MX-
Per la seconda delle tre serate previste nella megalopoli messicana, i Metallica ritornano al passato e aprono con 'Creeping Death', l'opener classica che da anni introduce la band sul palco: è solo la seconda volta che il pezzo, datato 1984, apre una data del tour di Death Magnetic, generalmente introdotto dalle prime due canzoni del nuovo full length del combo di Frisco. Tantissimi i pezzi della vecchia scuola: 'For Whom The Bell Tolls', 'Disposable Heroes', 'One', 'No Remorse' e 'Fight Fire With Fire'.


SETLIST:
Creeping Death- For Whom The Bell Tolls- Ride The Lightning- Disposable Heroes- One- Broken, Beat & Scarred- The Memory Remains- Sad But True- Turn the Page- All Nightmare Long- Kirk Solo #1- The Day That Never Comes- Master Of Puppets- Fight Fire With Fire- Kirk Solo #2- Nothing Else Matters- Enter Sandman- The Prince- No Remorse- Seek and Destroy.