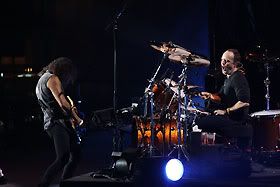 June 4, 2009
.
Foro Sol, Mexico City, MX-

Il tour europeo dei Metallica si interrompe e lascia spazio ad alcune apparizioni in Messico, nella gigantesca capitale del Paese centroamericano. E' la settantesima volta che la città messicana ospita la band, anche se l'ultima data qui risale ormai al lontano 1999. Del 1993 la prima di una serie di esibizioni, dalle quali sono anche stati estratti dei pezzi finiti poi sul 'Live Shit'. La scaletta è quasi tutta improntata su 'Death Magnetic' e sul 'Black Album', visto che da quest'ultimo vengono estratti ben 4 pezzi. Immancabili e terremotanti i classicissimi: 'Master', 'Seek', 'Creeping', 'One'. Ci pensa 'Blackened' a movimentare il pogo messicano, mentre a sorpresa viene suonata 'Trapped Under Ice', pezzo del 1984 che prima d'ora era stata sfoderata live solo
7 volte.


SETLIST:
That Was Just Your Life- The End of the Line- Creeping Death- Holier Than Thou- One- Broken, Beat & Scarred- Cyanide- Sad But True- The Unforgiven- All Nightmare Long- Kirk Solo #1- The Day That Never Comes- Master Of Puppets- Blackened- Kirk Solo #2- Nothing Else Matters- Enter Sandman- Helpless- Trapped Under Ice- Seek and Destroy.