MET ON TOUR: JANUARY 2010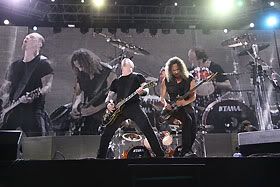 WORLD MAGNETIC TOUR-
Il tour di supporto a Death magnetic, uscito ormai oltre un anno e mezzo fa, procede ininterrotto. Dopo aver già fatto una volta il giro del mondo, partendo dagli States e toccando anche l'Italia nell'estate 2009, i Metallica sono tornati in patria e si apprestano ora a battere il ferro caliente dei Paesi latini del Sudamerica. Si inizia il 19, con la trasferta ad alta quota di LIMA (Perù), prima di due date adrenaliniche in quel di BUENOS AIRES, capitale dell'Argentina: proprio in Argentina i Metallica tengono una terza data (il 24 a CORDOBA), spostandosi successivamente in Brasile per gli show di PORTO ALEGRE e SAN PAOLO (dove si esibiscono due sere consecutive, il 30 e il 31 gennaio). Particolarmente caldo e scatenato il pubblico sudamericano, come la tradizione del suo sangue latino comanda!
LIVE REPORT-

BUENOS AIRES, ARGENTINA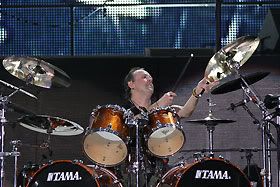 BUENOS AIRES.
Metallica nella capitale argentina: è la quarta volta in assoluto che accade, la prima degli ultimi dieci anni dopo il debutto nel 1993. La data del 21 gennaio vede i Quattro Cavalieri aprire con l'opener classicissima CREEPING DEATH, incalzando poi con una scaletta pesantissima e datata (FOR WHOM THE BELL TOLLS, HARVESTER OF SORROW più la commovente FADE TO BLACK); buon successo ottengono i pezzi 'nuovi', ben 4 gli estratti di Death Magnetic, e naturalmente quelli del Black Album. La seconda parte della serata è pura adrenalina: MASTER OF PUPPETS, ONE, BLACKNED e WHIPLASH vengono esplose in rapida successione di fronte al moshpit generale, prima che SEEK & DESTROY concluda da tradizione il massacro. La scaletta del day two si differenzia per l'ingresso di song come FUEL (unico estratto da Load e Reload)e di telluriche scariche di velocità quali BATTERY e FIGHT FIRE WITH FIRE, nonchè per la cover dei Queen STONE COLD CRAZY e la leggendaria THE FOUR HORSEMEN.
LIVE REPORT-

SAO PAULO, BRASILE
SAN PAOLO.
Ne è passato di tempo da quel maggio 1989, prima apparizione dei Metallica a San Paolo del Brasile, nel corso del leggendario Damaged Justice Tour! E' questo il settimo show nella metropoli verdeoro, e i Metallica attaccano con la solita CREEPING DEATH e la solita pluviale aggressione di classicissimi, da THE FOUR HORSEMEN a FADE TO BLACK, tra rabbia, velocità, tecnica, melodia e sentimenti forti. La scaletta, che prevede anche l'abrasiva MOTORBREATH, pesca ben 4 song da Ride the Lightning e 4 da Death Magnetic. Poco diversa la scaletta della seconda esibizione, che prevede pezzi più emotivi come THE UNFORGIVEN e SANITARIUM, al fianco di calibri grossi come la marziale RIDE THE LIGHTNING o la primordiale HIT THE LIGHTS. L'entusiasmo maggiore è sempre destato da MASTER OF PUPPETS, straordinaria a ogni latitudine; e se come cover viene scelta HELPLESS dei Motorhead, la conclusione è sempre firmata in calce da SEEK & DESTROY!